Back to School Super Sale/ THANKSGIVING TURKEYS
Come into Story on Thursdays. Buy 3, Get 1 Free
IN STORE THURSDAYS! Buy 3, Get 1 Free! Buy any 3 products in Cut Rite Meats butcher shop on Thursdays and you will get 1 free! Even Tommies!!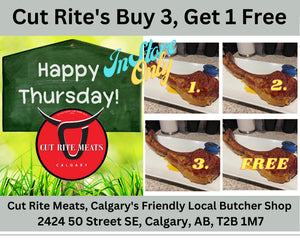 Welcome to Cut Rite Meats. Your Friendly Local Online Butcher Shop
Fully Stocked & There For You
Alberta Meat Cut with Pride

Thanks for visiting our new Online Butcher Shop. Everything you can buy at our Cut Rite Meats butcher shop you can buy online!
How To Order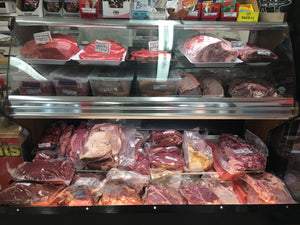 Visit Cut Rite Meats Online Butcher Shop for Premium High Quality Meat that is Always Affordable
Check out our Online Menus: Butcher's Favourite has our Online Butcher Shop's latest additions & Super Sales. Order a Whole Cow or Whole Pig. Meat Pack Butcher Box to choose from over 20 Prepared Meat Packs. Grab & Go to check out easy selection of our top 30 best sellers. Or Build Your Own Butcher Box. Plus More Menus: Smoke Shack for bigger pieces of meat you want for your smoker; our Specialty Menu, Butcher Supplies and Buy Your Dog a Bone over 21 products for your furever friend.
Buy Your Dog a Bone Order Online
Cut Rite Meats
Calgary and area's friendly neighbourhood butcher shop
2424 50 Street SE, Calgary, AB, T2B 1M7
Email cutriteonline@gmail.com 
Phone 403-272-5159 
HOURS
Mon - Saturday, 10AM-6PM
Sunday, 11AM-5PM
Cut Rite Meats, Your Friendly Local Butcher Shop
From our Cut Rite Meats family to yours.